Interview Magazine just released their cover star for October/November 2012. It is none other than Brad Pitt. Oh yes, girls wanna be with him and guys wanna be him, or look like him. I have always been a fan of Brad Pitt. He has done some very nice movies (Fight Club) and not so nice ones (Troy, sorry!). But his movie characters are always interesting.
Fashion-wise, I have read that he tends to mirror his partner's clothing choices. Like being soon-to-be Mr. Angelina Jolie, Brad has worn leather and darker clothes. He was a bit more laidback when Jennifer Aniston and him were dating. I guess its a good thing. He's a man's man yet he shows his affection towards his partner through clothes.
Anway, back to the Interview. It was by Guy Ritchie, photographed by Steven Klein and styled by Ludivine Poiblanc. In the photos, it captures the many faces of Brad Pitt. Enjoy!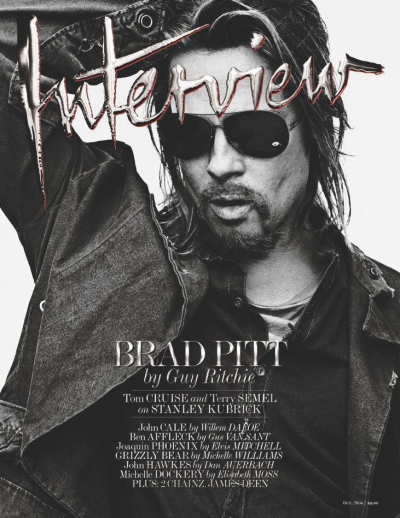 The cover star on the cover page.
Jacket and Shirt by Greg Lauren; T-shirt by Topman; Sunglasses, Pitt's own;
Rings by Camilla Dietz Bergeron and David Yurman
Arrr! Pirate Pitt wears an eye patch by Astuko Kudo and T-Shirt by Kaufman's Army & Navy.
Looking very dandy in a Versace Jacket and Lanvin Shirt. Accessories includes a necklace by Camilla Dietz Bergeron and a bracelet David Yurman. Pitt wears his own ring.
Wonder what Brad Pitt looks like in dreads? Wonder no more!
Sweater is from A Child of Jago.
My personal favorite, because of the huge floppy bowtie.
Pitt wears robe and bowtie by Tom Ford and shirt by Giorgio Armani. Accessories do make a man sometimes, Pin by Camilla Dietz Bergeron, watch by Cartier and ring by David Yurman.
So is the magazine out now? Gotta go check the bookstores.
See yah later!